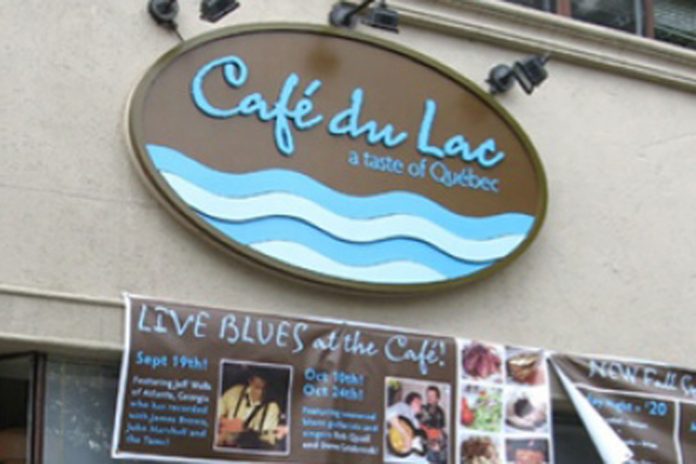 Unfortunately Café Du Lac has closed its doors this past summer (2012). We wish the previous owners the best of luck and Café Du Lac will remain as a hall of fame member having served the Etobicoke community the last four years.
You know what I love about Quebec City aside from the cobblestone streets, the beautiful boardwalk, and European culture? It's the poutine. I know you were probably looking for something more substantial. But no, it's the poutine! Café Du Lac has the answer to that I crave.
Café Du Lac, located at 2350 Lake Shore Boulevard West in south Etobicoke, has created a poutine dish that rivals those that I have had in Quebec. You'll have your choice of several poutine dishes on foie gras and all of them are delicious. Let's not forget the fantastic array of desserts. Café Du Lac has also imported several Quebec beers all of which I have enjoyed. A cozy and fun atmosphere, you can choose to enjoy your meal inside or take it to the patio. This Quebec-style bistro also offers up live music every other Friday which will entice you to stay long after your poutine is gone.
Café Du Lac is a regular participant in Winterlicious and Summerlicious, a perfect time to try out their prix fixed menu offerings.
So if you're not up for the drive to Montreal, why not cut six hours from your journey and drive down to Café Du Lac.
| | |
| --- | --- |
| WHERE: | 2350 Lake Shore Boulevard West, Etobicoke, ON M8V 1B8, 416-848-7381 |
| WHEN: | Visit website below for hours. |
| WEBSITE: | None |


View Café Du Lac in a larger map
Like what you see? Please LIKE and SHARE this article using the buttons below as each "mention" helps determine our monthly and yearly top 10 lists!