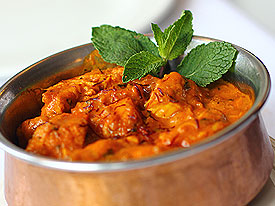 When it comes to Indian food most people automatically think to the flavours. Will it be too spicy or not spicy enough? Luckily the people behind Chutney´s Fine Indian Cuisine in Etobicoke have all these bases covered.
Chutney's Fine Indian Cuisine, located at 3077 Bloor Street West, is a popular choice among the most adventurous of eaters. Although Indian food is still relatively new when it comes to North American cuisines the dishes are a result of many centuries and many generations of cooks. Now granted, Chutney's Fine Indian Cuisine hasn't been around for centuries but they have been at their location in The Kingsway for over a decade. A measure of a restaurant's success is their ability to keep the regulars coming back while attracting new "foodies" every night. Chutney's restaurant has also won the Etobicoke Guardian's Diamond award year after year.
The reason for the awards? Well it's the food of course! From delicious appetizers like the Kastoori Paneer Tikka covered in a spicy green mint sauce and the assorted platter with vegetable samosas, onion bhajia, and more. Main favourites such as Chicken Tikka Masala and Lamb Korma will leave you satisfied. Vegetarians will love the Eggplant Patiala and the Channa Masala. The atmosphere is quite inviting with courteous service and reservations are always recommended at Chutney's. They'll also host your group function should the need arise.
People are always loyal to their Indian restaurants so trust me when I say that if you haven't been to Chutney´s Fine Indian Cuisine, you'll definitely love it here.
Chutney's Fine Indian Cuisine: Where and When in Etobicoke…
| | |
| --- | --- |
| WHERE: | 3077 Bloor Street West, Etobicoke, ON M8X 1C7, 416-231-1367 |
| WHEN: | Mon-Fri 11:30am – 2:00pm and 4:00pm – 10:00pm, Sat-Sun 4:00pm – 10:00pm |
| WEBSITE: | www.chutneysrestaurant.com |

View Chutney's Fine Indian Cuisine in a larger map
Like what you see? Please LIKE and SHARE this article using the buttons below as each "mention" helps determine our monthly and yearly top 10 lists!