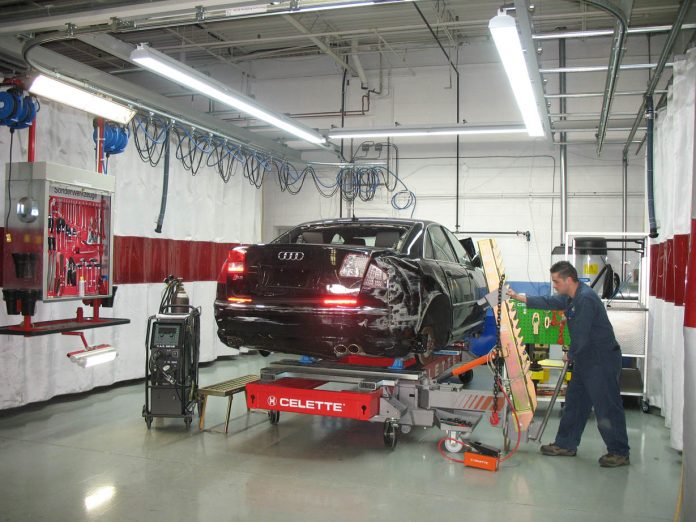 Unfortunately, living where we do in this great country of ours with the winters such as they are, some of us might be "a slippin' and a slidin'" while driving and end up in a fender bender. Luckily we have the best autobody shop in Toronto with 427 Auto Collision in Etobicoke.
427 Auto Collision, located at 395 Evans Avenue just west of Kipling, has been in business for over 40 years and the reason for this is clear, they are well-respected in the industry and stand behind everything they do. Winner of numerous Canada Body Shop of the Year awards they are recommended by all major insurance companies and you are guaranteed to get your car back in tip-top condition. In fact, before I discovered this great repair center I went to another shop to get my bumper repaired. They fixed the bumper but they managed to scratch the hood of my car! This wouldn't happen at 427 Auto Collision. It is a very large complex with plenty of room for your vehicle (i.e. your "baby"). You also get your car back when they say you'll get your car back. When I was there last the garage floor was so clean it seemed you can eat your dinner off of it.
Fender benders and car accidents are a fact of life. When something like this happens to you the last thing you want to worry about is whether you'll get your car back in pre-accident condition. You'll have no worries if you bring it to 427 Auto Collision, the best body shop in Etobicoke and all of the GTA.
| | |
| --- | --- |
| WHERE: | 395 Evans Avenue (West of Kipling Avenue), Etobicoke, ON M8Z 1K6, 416-259-6344 |
| WHEN: | Mon to Fri: 8am – 6pm, Sat: 9am – 1pm, Sun: Closed |
| WEBSITE: | www.427autocollision.com |

View 427 Auto Collision in a larger map
Like what you see? Please LIKE and SHARE this article using the buttons below as each "mention" helps determine our monthly and yearly top 10 lists!