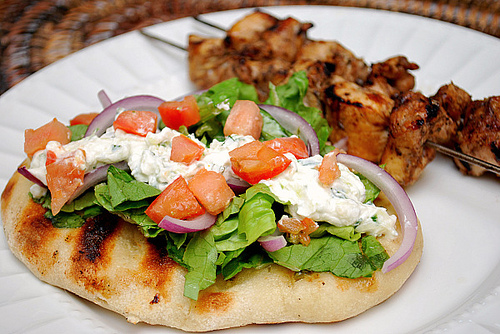 Opa! This is what you yell out as the saganaki is lit and flames shoot up into the air. The tradition never gets old. Much like coming to Kalamata Restaurant in Etobicoke for a great and filling Greek meal.
So it looks like Kalamata has closed its doors. The write-up will remain as a hall of fame member. Meanwhile check out the hundreds of other great restaurants in and around Etobicoke!
Kalamata Restaurant, located at 3473 Lakeshore Boulevard West (at 30th Street), is an authentic Greek restaurant in the heart of South Etobicoke. Boasting recipes "that have been part of the family for over 50 years" this is the place you come to for a traditional or modern Greek meal. With so many mouth-watering items on the menu, each more filling than the last, you could visit Kalamata for two weeks straight and never repeat a meal.
Whether you're here For lunch, dinner, or brunch on the weekends you'll always have plenty to choose from. Recommended salads are the traditional Greek or the Kalamata Caesar specialty. Kalamari come crispy or grilled but always delicious. The aforementioned saganaki is always fun. The chicken, lamb, and pork souvlaki pitas are all hearty meals at a very reasonable price and you can't go wrong with any of the Kalamata flat breads. For groups nothing beats one of the mezes platters for sharing. Choose a rack of lamb or the steak and kalamari and you're set for dinner.
In addition to sitting in the dining room, delivery and takeout is available. Kalamata also has a banquet hall which is perfect for weddings, baptisms, or business functions. They also do catering.
You don't have to go all the way to the Danforth to have a traditional Greek meal. You can simply come down to Islington and the Queensway in Etobicoke and eat to your heart's content at Kalamata Restaurant.
Kalamata Restaurant: Where and When in Etobicoke…
| | |
| --- | --- |
| WHERE: | 3473 Lakeshore Boulevard West, Etobicoke, ON M8W 1N5, 416-252-7700 |
| WHEN: | Tue-Thurs 11am-10pm, Fri 11am-11pm, Sat 10am-11pm, Sun 10am-10pm, Closed Mondays |
| WEBSITE: | www.kalamatarestaurant.ca |

View Kalamata Restaurant in a larger map
Like what you see? Please LIKE and SHARE this article using the buttons below as each "mention" helps determine our monthly and yearly top 10 lists!