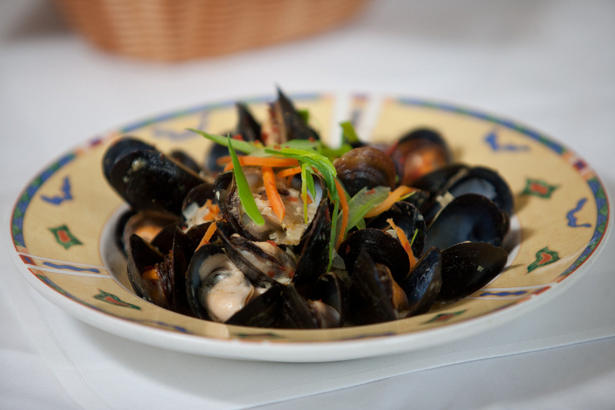 In terms of French restaurants, it's probably the type of cuisine I have least often. There are only a handful of French restaurants in Toronto I frequent but the one I visit most often is located right here in Etobicoke, La Petite France.
La Petite France, located at 3317 Bloor Street West (Bloor and Islington), is a specialty restaurant lover's dream. Authentic French dishes paired beautifully with a selection of carefully picked out wines will ensure a fantastic dinner experience. The space itself is also very elegant which lends itself to a romantic night out if you are so inclined.
I usually start off with a fresh Salade Bestille with a side of garlic bread or bruschetta. The French onion soup warms the palate and is of course, delicious. If the mood suits you I'd also recommend a plate of escargots. For mains try the confit of duck leg with dried apricots and rum sauce or a classic steak tartare. The great thing about La Petite France is that they also have dishes that aren't as filling or as rich so there truly is something for everyone. Prices are great too with most mains coming in at under $20.
La Petite France is a regular participant in Winterlicious and Summerlicious, a perfect time to try out their prix fixed menu offerings. They can also cater your special event.
So whether it's a normal lunch or dinner out with friends or a romantic dinner with someone special, La Petite France will serve you well.
La Petite France: Where and When in Etobicoke…
| | |
| --- | --- |
| WHERE: | 3317 Bloor Street West (East of Islington), Etobicoke, ON M8X 1E7, 416-234-8783 |
| WHEN: | Lunch: Mon-Fri 11:30am – 3:00pm, Dinner: Mon-Sat 5:30pm – 10:00pm, Closed: Sun |
| WEBSITE: | www.lapetitefrance.ca |

View La Petite France in a larger map
Like what you see? Please LIKE and SHARE this article using the buttons below as each "mention" helps determine our monthly and yearly top 10 lists!