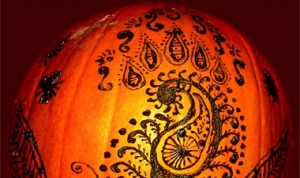 Halloween brings many things. There's candy, scary movies, and of course dressing up. My favourite activity though has to be carving the pumpkin and there's a great event this weekend that the whole family can participate in.
The 14th Annual Great Pumpkin Art Festival is put on by the Waterfront Trail Artists, a 100% volunteer non-profit group of artists and arts supporters who are interested in involving their community in cultural activities (we'll be posting more on them in a later entry). The festival is an all ages celebration and is indeed fun for the whole family. It features professionally artist-led activities such as pumpkin carving, pumpkin cooking, mask making, apple doll making, and temporary henna tattoos. Admission is $7 per person and includes a pumpkin and admission to all workshops. The 14th Annual Great Pumpkin Art Festival runs this Saturday from 10am to 3pm.
So if you'd like to show off your pumpkin carving skills or would like to learn how from the community's great artists, bring the family down to the Great Pumpkin Art Festival.
| | |
| --- | --- |
| WHERE: | 2979 Lake Shore Blvd. (South side between 8th & 9th Streets), Etobicoke, ON M8V 1J5, 416-834-3107 |
| WHEN: | Saturday, October 30th 2010, 10am – 3pm. |
| WEBSITE: | www.trailart.org |


View Waterfront Trail Artists in a larger map
Like what you see? Please LIKE and SHARE this article using the buttons below as each "mention" helps determine our monthly and yearly top 10 lists!