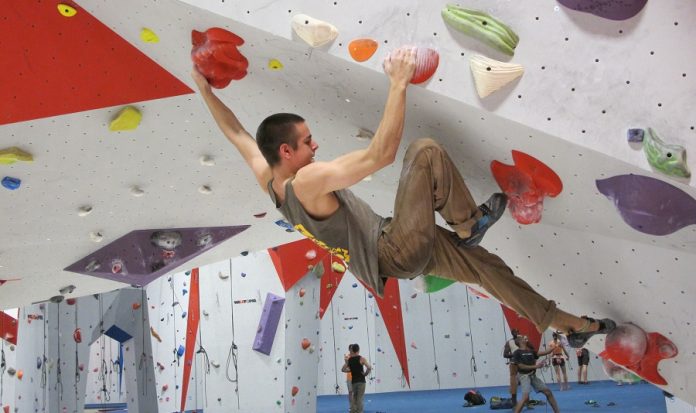 Climbing a vertical rock face on the side of a mountain is something that I've always wanted to do. The problem? I'm scared to death! Boulderz Climbing Centre in Etobicoke allows me to realize this dream safely and gives me a fun and exciting workout all at the same time.
Boulderz Climbing Centre's new Etobicoke location can be found at 80 The East Mall Unit 9 just North of The Queensway. It is a massive facility with a variety of climbing walls to suit every skill level. Whether you are an experienced climber or a novice trying it out for the first time Boulderz has a wall for you. Many consider rock climbing to be that perfect physical activity. It builds stamina, tones muscle, and most importantly, it's fun! Boulderz features over 16,000 square feet of climbing surface to choose from with over 100 route climbs.
There are many different programs at Boulderz all of which are geared towards making you proficient at climbing not matter what your level you're starting at. Both bouldering (climbing lower structures) and roped climbing (taller structures while hardnessed it) are offered here.
They have drop-in sessions, day passes, and weekly programs, depending on your schedule and commitment. Safety is paramount at Boulderz Climbing Centre so the latest and greatest in equipment is used. Boulderz also features a Kids Zone, bouldering and rope climbing for children complete with slide!
They say the best kind of exercise is the kind you don't realize you're doing. For us it's all about getting to the top of the wall at Boulderz Climbing Centre in Etobicoke. Check out this unique facility today!
Boulderz Climbing Centre: Where and When in Etobicoke…
| | | |
| --- | --- | --- |
| WHERE: | | 80 The East Mall, Unit 9, Etobicoke, ON M8Z 5X1 |
| PHONE: | | 416-255-6676 |
| WHEN: | | Mon-Fri: 12pm to 11pm, Sat-Sun: 9am to 9pm |
| WEBSITE: | | www.boulderzclimbing.com |
Like what you see? Please LIKE and SHARE this article using the buttons below as each "mention" helps determine our monthly and yearly top 10 lists!