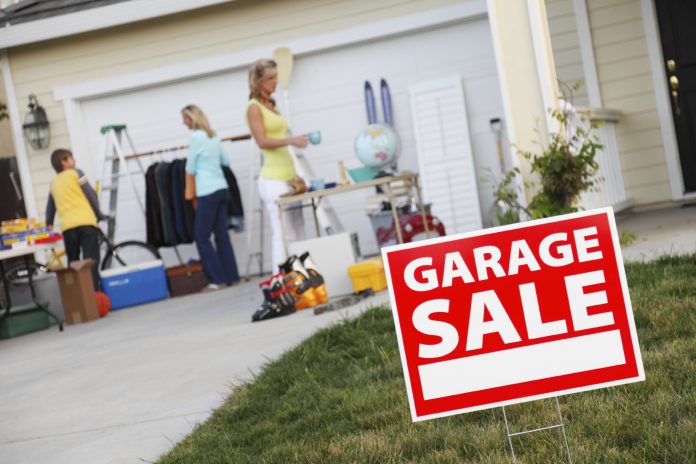 Scroll down to view all Etobicoke garage sales or to enter your own yard sale!
Drive around Etobicoke's tree-lined streets on a Saturday morning in late Spring or Summer and you're bound to drive by several garage sales selling anything from kid's toys to old clothing to antiques. If you're lucky you might even find some genuine treasures. Etobicoke is considered to be one of the best places in the GTA for garage sales. The reasons for this are the larger front lots on almost all of Etobicoke's residential streets as well as the ease in getting around whether you are driving, riding a bike, or walking.
Garage Sale Tips
– Advertise by placing a temporary sign on the closest major street pole. Remember to take it down immediately after the yard sale ends.
– Watch the weather forecast a couple of days before and if it looks like a pleasant day, hold your garage sale.
– Keep prices low. People are expecting bargains!
– Ask your neighbours if they would also like to have a garage sale. Street sales are much more fun and attract more bargain seekers.
– Advertise your sale for free right here on 365Etobicoke.com!

365Etobicoke.com receives 20,000 to 30,000 page views per month. Just post a comment below with the date, time, address, and closest major intersection of your Etobicoke garage sale to guarantee more people passing by your sale. We'll send out a tweet and post your garage sale on our event page. We'll delete your sale after the date has passed.
~Upcoming Etobicoke Garage Sales~
| | |
| --- | --- |
| WHEN/WHERE: | Your garage sale could be here. Enter the details in the comment section below! |
| Saturday May 18 8am to 1pm | Huge Contents, Antiques, Garage Sale – 24 Meadowbank Road – Lots of items for sale. |
| | |
| TBD | TBD |
Like what you see? Please LIKE and SHARE this article using the buttons below as each "mention" helps determine our monthly and yearly top 10 lists!