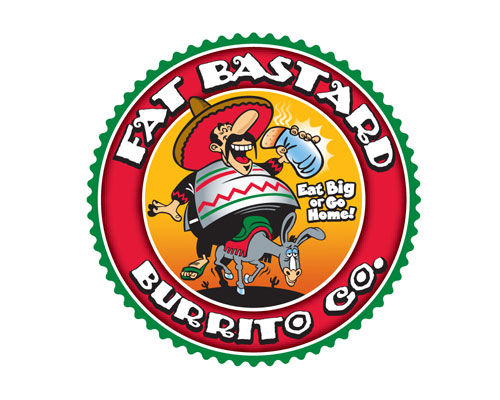 True story. After trying a burrito at Fat Bastard's I wondered how good a burrito would be in Mexico which is where I was headed a few weeks later. The verdict? The Fat Bastard burrito was better, hands down.
Fat Bastard Burrito Co. is located at 1180 The Queensway (between Kipling & Islington) and right beside another landmark, Hollywood on Queensway. If you're approaching from the West the first thing you'll notice is the huge mural of their mascot on the side of the building where the eatery is located. Trust me, it's hard to miss.
The burritos at Fat Bastard's come in three size ranging from "Lil" to "Big" to "Huge". Notice there is no Medium per se, but most people find the "Big" enough to handle. You won't go hungry here. You also get your typical burritos such as chicken or steak but premium choice feature battered fish and sautéed shrimp for a nice change of pace. If you're still hungry after that treat yourself to a deep-fried Snickers or Mars bar (it isn't called Fat Bastard's for nothing). What sets this place apart from other burrito joints is the number and freshness of ingredients. They also don't charge you extra for premium ingredients which is a nice touch. The place is very busy during the day so it could be hard to grab a seat but I find that most grab their burrito to go.
So place your order and get a number, Fat Bastard's Burrito Co. will soon have you as a customer for life.
Fat Bastard Burrito: Where and When in Etobicoke…
| | |
| --- | --- |
| WHERE: | 1180 The Queensway, Etobicoke, ON M8Z 1R5, 416-252-0202 |
| WHEN: | Monday – Thursday 11am to 10pm, Friday and Saturday 11am to 11pm, Sundays 12pm to 10pm (check with restaurant for updated hours) |
| WEBSITE: | www.fatbastardburrito.ca |


View Fat Bastard's Burrito Co. in a larger map
Like what you see? Please LIKE and SHARE this article using the buttons below as each "mention" helps determine our monthly and yearly top 10 lists!