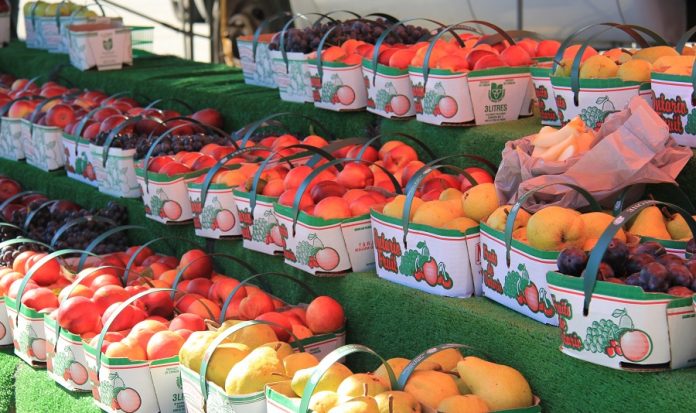 Way back in the day, before grocery stores and shopping malls, people would grow their own fruits and vegetables. Anything they didn't grow themselves they would trade for or buy at the local farmers market. The Sherway Gardens Farmers Market is like taking a step back in time, sort of, to the good old days.
The Sherway Gardens Farmers Market takes place every Friday, 8:00am to 2:00pm, in the North Parking Lot of Sherway Gardens. From early May to the end of October you can enjoy open-air shopping and the smell and colours of organically grown merchandise. You won't have the convenience of shopping carts and air conditioning but really, I'd much rather take along my own cart (if needed) anyway. The thing I enjoy most is speaking directly with the merchants to find out where their produce come from. You'll notice right away that all vendors and many shoppers are regulars.
It's not all fruits and vegetables at the Sherway Gardens Farmers Market. You'll also find cheese, nuts, meats, eggs, sauces, baked goods, mushrooms, honey, flowers, and prepared foods. The Sherway Gardens Farmers Market website is one of the best there is with a listing of all vendors.
So if you notice your fridge lacking some of the items in the four major food groups you'll want to take a trip down to the Sherway Gardens Farmers Market to stock up.
Sherway Gardens Farmers Market: Where and When in Etobicoke…
| | | |
| --- | --- | --- |
| WHERE: | | 25 The West Mall (Hwy. 427 and the QEW/Queensway, North Parking Lot) Etobicoke, ON M9C 1B8 |
| PHONE: | | 905-317-3010 |
| WHEN: | | Fridays, 8am – 2pm, May 6 to October 28 2016 |
| WEBSITE: | | www.sherwaymarket.com |

View Sherway Gardens Farmers Market in a larger map
Like what you see? Please LIKE and SHARE this article using the buttons below as each "mention" helps determine our monthly and yearly top 10 lists!