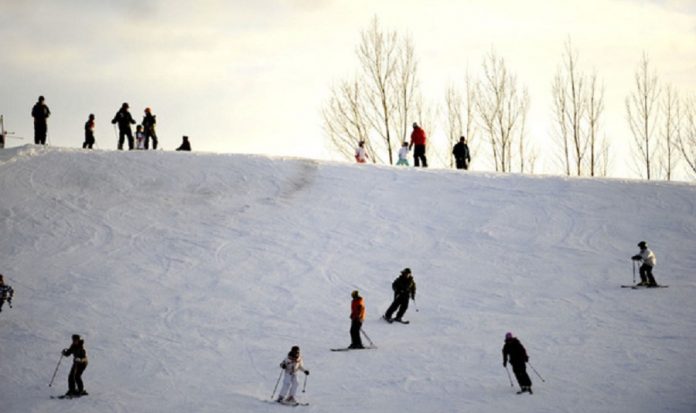 What's there to do in Etobicoke on a snowy Winter's day? The answer depends on whether you see the glass as half empty or half full. If half empty you're probably thinking of grabbing a snow shovel. If half full, you're grabbing your skis or snowboard and heading to the Centennial Park Ski and Snowboard Centre.
With the small alpine skiing hill at Centennial Park, Etobicoke is home to one of only two ski hills located within the boundaries of Toronto with the other being the North York Ski Center. The park features one t-bar and a conveyor lift, serving three slopes (intermediate slope, beginner slope, and a snowboard slope). Don't know how to ski? No worries. Centennial Park has certified instructors and programs designed for the absolute beginner to the advanced skier or snowboarder. Prices are reasonable too with all day passes starting at $34.50 (please see website below for updated pricing). They also have one, two, and four-hour passes. The ski-hill opens in mid-December weather permitting.
If you're a dedicated skier you may want to look at a Season Snow Pass, which are also available for families. There's a variety of passes to suit your lifestyle. In addition to the ski school, the facilities include snowboard and downhill rentals, helmet rentals, hi-tech snow making, lifts, night skiing, changing area, restrooms, and snack bar.
If you're wondering about tobogganing or sledding down this hill, then you'll want to read this recent article in the Toronto Star titled Snow way! Toboggans barred from popular hill. Tobogganing on the great Centennial hill was going to be featured in a future 365Etobicoke.com entry but this bylaw has changed all that. To read more about the Centennial Park hill sledding ban, click here. However, there is still a great designated hill for tobogganing at the North end of the park.
Take advantage of the Centennial Park Ski and Snowboard Centre. It's no Whistler, but we should be proud that it's Etobicoke's hill. See you on the slopes.
Centennial Park Ski and Snowboard Centre: Where and When in Etobicoke…
| | | |
| --- | --- | --- |
| WHERE: | | 256 Centennial Park Road (1 block west of Renforth Drive, north of Rathburn Road) Etobicoke, ON M9C 5N3 |
| PHONE: | | 416-394-8754 |
| WHEN: | | Mid-December to Mid-Mark Weather Permitting. Visit website below for hours. |
| WEBSITE: | | Centennial Park Updated Ski Prices – http://www.toronto.ca/parks/skiing/prices.htm |

View Centennial Park Ski and Snowboard Centre in a larger map
Like what you see? Please LIKE and SHARE this article using the buttons below as each "mention" helps determine our monthly and yearly top 10 lists!