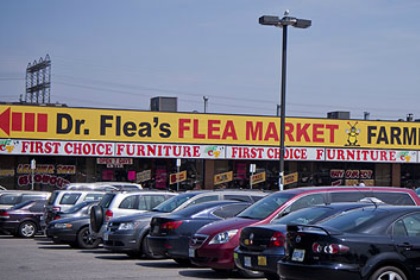 If there's one activity that we can guarantee we'll be doing every weekend it's shopping. Whether it's for the necessities of life such as food and clothing or things that make life fun like video games and cameras we all need to do it. Why not get everything under one roof at Etobicoke's own Dr. Flea's Flea Market?
Dr. Flea's Flea Market, located at 8 Westmore Drive at Highway 27 and Albion Road, is Toronto's largest indoor and outdoor flea market. Having opened in 1987 Dr. Flea's has grown to over 400 vendors. Clothing, furniture, artwork, electronics, Dr. Flea's has it all! There's also a farmers market where you can pick up locally grown fruits and vegetables in addition to meats and baked goods. If you have items around your house that you'd like to sell then try their outdoor collectible market! Don't worry about working up a hunger while shopping, the food court has foods from around the world to satisfy your cravings.
But a day at Dr. Flea's Flea Market is more than just a shopping trip. It's an event! With hourly giveaways, prizes, and great deals, it's unlike any other shopping experience in the city. Dr' Flea's has given away things such as belts and ties for Father's Day, chocolates and roses for mom's on Valentine's and Mother's Day, and apple pies for Thanksgiving. They've even given away Justin Bieber tickets to the delight of a true Belieber! And if you're a fan of the Toronto Maple Leafs they've had several players in for meet and greets.
Dr. Flea's Flea Market in Etobicoke is your one stop shop for everything under the sun!
Dr. Flea's Flea Market: Where and When in Etobicoke…
| | |
| --- | --- |
| WHERE: | 8 Westmore Drive, Etobicoke, ON M9V 3Z7, 416-745-3532 |
| WHEN: | Sat and Sun 10am – 5pm |
| WEBSITE: | www.drfleas.com/ |
Like what you see? Please LIKE and SHARE this article using the buttons below as each "mention" helps determine our monthly and yearly top 10 lists!