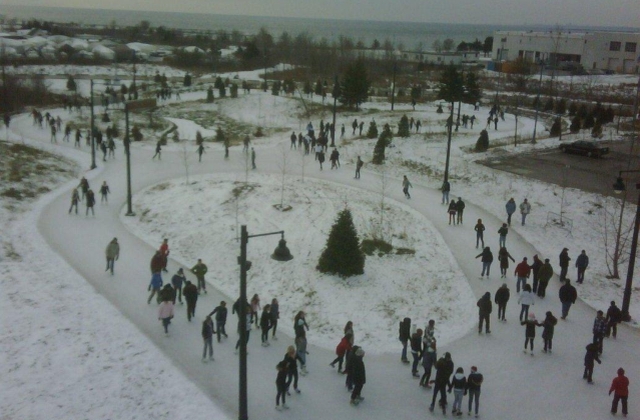 We here in Etobicoke have a lot to offer the rest of Toronto and the GTA and one way to spread the word is through our Top 10 things to do in Etobicoke list. There is no doubt that many have heard about all of the great things there are to do here but by picking out the very best we hope to make our city a destination for those that not only live here but those in the surrounding areas.
Our rankings are based on the number of page views, shares, Facebook Likes, Twitter shares, comments and more to come up with the Top 10 Things To Do In Etobicoke in 2016! Please share this list with your friends and let them know that Etobicoke is an amazing place to live!
#1
Colonel Sam Smith Skating Trail
We thought the warmer weather to start the season would hinder the number of views we get from people searching for our outdoor skating trail but nothing can be further from the truth. The outdoor skating trail located at Colonel Sam Smith Park in Etobicoke is constantly at the number one list during the Winter season and for good reason. There is nothing more enjoyable than skating the trail with friends and family and then stopping somewhere for hot chocolate afterwards.
#2
Toronto Ribfest
The number one ribfest in the entire area and bigger than most in the USA is our "little" ribfest that takes place in Etobicoke.Toronto Ribfest at Centennial Park is a tradition for many that has lasted years and with good reason. With delicious ribs in addition to all kinds of other tasty options there is no doubt that people put Toronto Ribfest in their calendars to start the year.
#3
Etobicoke Farmers Markets
If you love farmers markets than you'll need to put Etobicoke on your radar. It used to be that we'd have one farmers market in a different part of the city per day but depending on when you make your visit you may have several to choose from. Markets such as the ones that take place at Civic Centre, Stonegate, and Sherway Gardens, there's a farmers market near you!
#4
The Singing Lady Consignment Emporium
If The Singing Lady Consignment Emporium is a mainstay on our list for several reasons. The merchandise is always changing so you'll never know when you'll come across that treasure you've been looking for. The staff is also very knowledgeable and always there to lend a helping hand.
#5
Jerk Festival
The Jerk Festival takes place the week after the Caribbean Carnival and is still finding its form! It's not stopping people from showing up in drives for tasty Jerk and the amazing island acts brought in to entertain the crowds.
#6
Centennial Park Skiing and Snowboard Centre
The Centennial Park Skiing and Snowboard Centre might be suffering a bit from the lack of snow this year but when it does come expect pros and novices alike to come to the hill.
#7
MasterCard Centre for Hockey Excellence
The Mastercard Centre is easily one of the GTA's best hockey arenas both for hockey leagues and the occasional recreation skate. It's no wonder the Leafs make it their practice ice.
#8
Etobicoke Lakeshore Santa Claus Parade
The Etobicoke Lakeshore Santa Claus Parade is an event loved by kids and adults alike. Who doesn't want to see Santa and all his reindeer make it down Lakeshore?
#9
Etobicoke Olympium
Etobicoke Olympium is another great sports facility in our city that hosts events almost weekly whether for gymnastics or swim meets. Speaking of swim meets millions were spent to make the Olympium's pool the practice centre for the Pan Am Games making it one of the premiere pools in the GTA.
#10
James Garden Park
James Garden Park is a beautiful and serene park enjoyed by those who love nature and strolls in the park to the many brides and grooms who have their wedding pictures taken there.
Make sure you make it a point to visit one of the best things to do in Etobicoke in 2016 and don't forget about the other 191 (and counting) things to do in our great city!
Like what you see? Please LIKE and SHARE this article using the buttons below as each "mention" helps determine our monthly and yearly top 10 lists!